5 Wits Patriot Place - Haunted 20,000 Leagues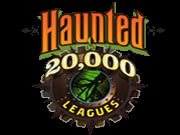 202 Patriot Place
Foxborough, MA
5 Wits adventures are cutting-edge, live-action entertainment venues that immerse you in realistic, hands-on experiences. They are similar to escape rooms in that you must use teamwork to solve puzzles and challenges, but 5 Wits adventures have higher quality environments, special effects, and more compelling storytelling. 5 Wits puts you in the center of the action, making you feel as if you're in a movie or video game.
20,000 LEAGUES - The Adventure of a Lifetime has just Surfaced!
An average trip to the museum turns into a journey beneath the sea when you suddenly stumble upon a mystery lost for over a hundred years!
Journey into Captain Nemo's Nautilus... an amazing submarine lost beneath the waves. Repair the engines, complete a dangerous experiment, and battle a sea monster's attack on the sub in this one-of-a-kind adventure!
ESPIONAGE - Come spy with us!
Time is ticking and everything is on the line when an evil corporation threatens the world. Do you have what it takes to save the day?
Your mission? Break into enemy headquarters, dodge security lasers, hack the computer system, unravel the clues, diffuse the threat, and get out alive! Every challenge you conquer and mistake you make will change the outcome, so stay sharp, move fast and don't get caught!
Email Haunt Owner
All photos and videos within this listing are the property of 5 Wits Patriot Place - Haunted 20,000 Leagues
Tomb reminded me of ancient Egyptians

If you like puzzles to go with the scares, check this place out. The Tomb reminded me of the ancient Egyptians. The intensity or scare factor was relatively less in The Tomb. But we need to brave the traps there. The 2000 League was equally horrifying. My favourite was the Deep Space. The rooms were logically designed to confuse as well as frighten the visitors. I will come again for sure.

| | |
| --- | --- |
| Scare Factor: | |
| Fun Factor: | |
| Haunt Value: | |

Posted November 2017

Email Verified

Discovering the secret passages were challenging

OMG.....it was a great new experience! Solving the ancient riddles and discovering the secret passages was very challenging. It was also pretty scary. The Espionage was equally terrifying and confusing. The least intense one was The Tomb and the 2000 Leagues. Will definitely visit every season.

| | |
| --- | --- |
| Scare Factor: | |
| Fun Factor: | |
| Haunt Value: | |

Posted November 2017

Live-action entertainment

I did hear about 5 Wits earlier and decided to try it out this Halloween season. I was pleasantly surprised. It was one of the most adventurous haunts I have ever been to. They use cutting-edge, live-action entertainment escape rooms. We did the Espionage and thoroughly enjoyed it. We had a great host who ably handled the crowd and made sure everybody got a chance to get through till the end. It is based on escape room concept, as a team solve challenges to escape from the room. The setting was of higher quality, complete with amazing special effects and an engaging theme. Will do the rest of the rooms next time.

| | |
| --- | --- |
| Scare Factor: | |
| Fun Factor: | |
| Haunt Value: | |

Posted November 2017

Email Verified

Challenging puzzles for kids

We had been there for a birthday party and the kids enjoyed it. It is more targeted for kids less than 13 years. The party was for a gang of kids of age group 7 to 17. The younger kids were scared but the older ones got disinterested. It was easy for them. Completed the puzzles in a matter of few minutes. We may return for an adult only event some other day.

| | |
| --- | --- |
| Scare Factor: | |
| Fun Factor: | |
| Haunt Value: | |

Posted November 2017

Email Verified

Challenging and frightening

One of the best haunted houses I have visited this Halloween. The Espionage was really challenging as well as frightening. The challenges like break into the enemy quarters and hack the computer system and unravel the clues was a bit tough to say the least. The tomb had some mild scares. My GF liked Deep Space more. The staff was polite and informative. Really a family friendly place. Definitely we will be back.

| | |
| --- | --- |
| Scare Factor: | |
| Fun Factor: | |
| Haunt Value: | |

Posted November 2017

Email Verified

Amazing Adventure

Amazing place to experience real time interactive adventures. I along with a group of 5 friends visited this place and we all had a great time. At the very outset, it's not a haunted house. The place encompasses 5 attractions as Deep Space, Drago's castle, Espionage, Tomb and 20K Leagues. We purchased the $20 ticket for 20000 leagues only and it was awesome. We were lost in an interactive environment where the objective was to repair the engines of a submarine and battled with sea monsters. The interior design and placement of artifacts portrayed a true picture of submarine and we really enjoyed a lot. Application of special effects was aligned appropriately at certain places and passing through the laser lights was super cool. Overall, a great interactive event to play and experience!

| | |
| --- | --- |
| Scare Factor: | |
| Fun Factor: | |
| Haunt Value: | |

Posted November 2017

Email Verified

Completely different story line

This was our third visit to 5 Wits Patriot Place and we as a family had great time. We tried the 20,000 leagues on the lights out night and it was a completely different experience. The music was different and had a completely different story line. Unlike the others, this had puzzles to solve in a pitch black submarine with only a flashlight. It was like being in a video game, as we kept moving to the next level. It was mind boggling and we got hooked. We will be back.

| | |
| --- | --- |
| Scare Factor: | |
| Fun Factor: | |
| Haunt Value: | |

Posted November 2017

Email Verified

Blown Away

An innovative concept based on DIY (Do it Yourself). Loved it! This place just had blown away our expectations! Got there with a bunch of college friend's as a get together exercise and we had a blast! No more traditional banging and screaming! The queue wasn't a problem and we entered the maze to accomplish to task in an hour. Loved the special effects, real interactive environment and themed story of fighting the monsters under the sea. All the equipment's to play inside the space was in perfect condition and truly resembled an authentic submarine. The walk-through was very entertaining and we loved the riddles to be cracked in a constraint time. Highly recommended!!

| | |
| --- | --- |
| Scare Factor: | |
| Fun Factor: | |
| Haunt Value: | |

Posted October 2017

Drago's Castle was the scariest

A mind blowing visit it was. The adventures were similar to escape rooms but we must use team work to solve the puzzles and challenges. Deep Space had some mind bending puzzles to solve. The time limit to solve the puzzle is just 30 minutes. But we made it out of it at the last minute. For me, the scariest part of the visit was the Drago's Castle. Ticket rates were reasonable. I will recommend this place.

| | |
| --- | --- |
| Scare Factor: | |
| Fun Factor: | |
| Haunt Value: | |

Posted October 2017
All information on this page was submitted to Massachusetts Haunted Houses and was believed to be accurate at the time it was posted. Please report any inaccuracies
here
.