UPDATE - Fire on USS Salem Results in Weekend Closure for Popular Ghost Ship Harbor Halloween Attraction
Home » Blog » MAHauntedHouses.com News and Updates
October 11, 2018 By Wendy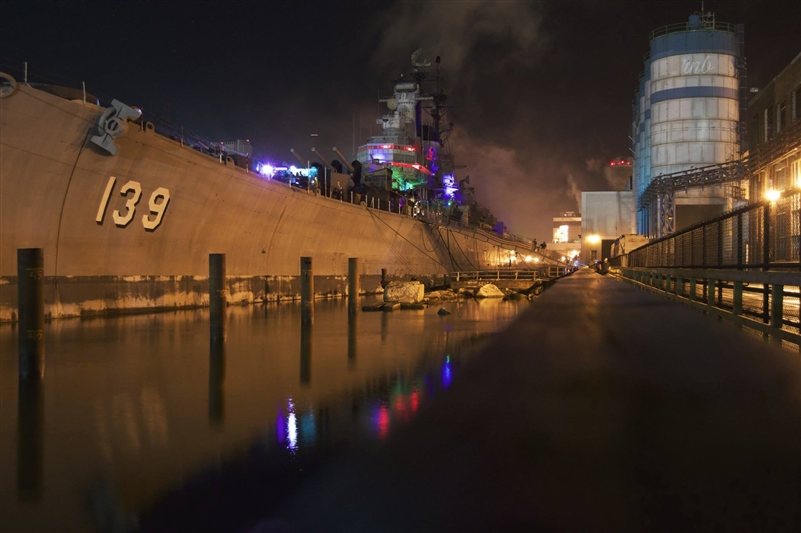 USS Salem is a 1940s era warship
Photo by:
Ghost Ship Harbor, via Facebook
UPDATE (10/24/2018) - Per Ghost Ship Harbor's Facebook page: "Unfortunately, as a result of this incident, we are not able to reopen this season. Our goal is to return in 2019. All tickets for 2018 will be honored in the 2019 season. Requests for refunds on tickets from 10/12-11/03 can be made by emailing info@ghostshipharbor.com. We are devastated about what has happened. We sincerely apologize for any inconvenience this may have caused you and look forward to seeing you next year."
UPDATE (10/18/2018) - Per Ghost Ship Harbor's Facebook page: "We continue to work with the City of Quincy to ensure that Ghost Ship Harbor is completely safe for our visitors." It further went on to say, "We will pass along updates to our fans and ticketholders when we have them."
UPDATE (10/15/2018) - The U.S.S. Salem remains closed at this time and its unclear when Ghost Ship Harbor will re-open. Quincy's acting Fire Chief Joe Jackson cited "imminent danger" in the order that was issued to Ghost Ship Harbor this afternoon, saying it came after "repeated unsuccessful attempts to work with all parties related to the Ghost Ship Harbor event," according to reporting from The Patriot Ledger.
Original reporting on the fire can be found below.
###
The U.S.S. Salem serves as a popular seasonal Halloween haunted attraction in Quincy, Mass. with Ghost Ship Harbor, but this coming weekend it will be closed after a small fire broke out. The fire occurred aboard the 1940s era warship on Wednesday morning.
According to a statement released on Ghost Ship Harbor's website: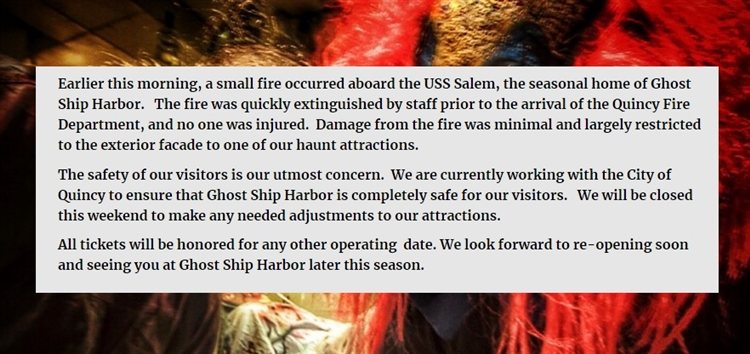 Ghost Ship Harbor takes on the like of a haunted house attraction experience, but on a Navy ship instead! It has proved to be a popular Halloween haunt attraction, landing itself on Fodor's Travel list last year as the scariest attraction in Massachusetts. It offers three haunted houses and a paranormal experience.
Let us know in the comments below if you've had a chance to experience Ghost Ship Harbor!