5 Wits Brings Scary New Haunted Adventure To Patriot Place October 1st
Home » Blog » Massachusetts's Local Halloween Fun Guide, Massachusetts Haunts: An In Depth Look, Press Releases, Massachusetts Haunt News, Halloween Headlines
September 18, 2015 By Haunt News & Press Releases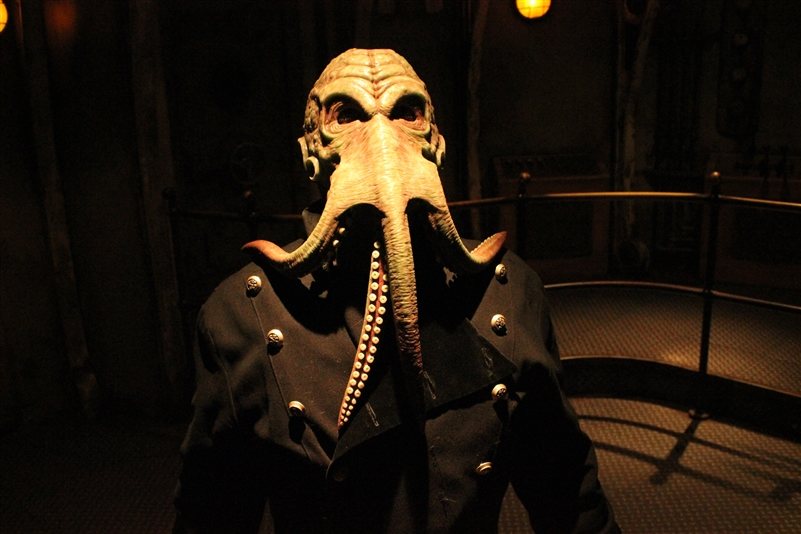 Foxborough, MA - September 18th, 2015 - With only your nerves to guide you, you will journey onto a grim, abandoned submarine, encounter strange and bizarre experiments and unexpected horrors as you face your deepest fears in 5 Wits' newly redesigned Haunted 20,000 Leagues Adventure, scheduled to open at Patriot Place on Thursday, Oct. 1.
The spooky new adventure is a haunted experience unlike any other in New England and is designed especially for the Halloween season. The hour-long, hands-on immersive adventure involves Captain Nemo conducting horrific experiments on his crew. Once they are all gone, he begins experimenting on himself. Your goal is to escape the wrath of a mad sea captain before it's too late.
"It's an all-new haunted adventure for us, scarier than anything we've done in the past," said John Pandiscio, 5 Wits director of marketing and advertising.
The Haunted 20,000 Leagues Adventure appeals to all ages 7 and older and will be open Thursdays through Sundays in October. See schedule below. Admission is $19.99. For more information, or to book tickets, call 888-955-WITS or check out their listing on MAHauntedHouses.com.
Haunted 20,000 Leagues Adventure Schedule
Open Thursdays through Sundays, Oct. 1st- 31st. Haunted adventures run every 20 minutes
| | |
| --- | --- |
| DAY | TIME |
| Thursdays | 6-8 p.m. |
| Fridays | 6-10 p.m. |
| Saturdays | 6-10 p.m. |
| Sundays | 6-7 p.m. |

About 5 Wits Patriot Place
5 Wits Patriot Place is cutting-edge, live-action entertainment that "immerses" you in realistic, hands-on adventures. Computer-controlled special effects and physical interaction put you in the center of the action, making you feel as if you're in a movie or video game. Our Adventures are Espionage and 20,000 Leagues. Tickets are $17.99 for one adventure or $25 for two. Call 855-955-WITS for reservations. For more information, visit www.5-WITS.com.
About Patriot Place
Patriot Place is a shopping, dining and entertainment destination located adjacent to Gillette Stadium in Foxborough, Massachusetts. Patriot Place features large and boutique retailers, 17 casual to high-end restaurants and other nightlife venues. Among the highlights of Patriot Place are New England's first Bass Pro Shops, a state-of-the-art, 14-screen Showcase Cinema De Lux, the 16,000-square-foot CBS Scene Restaurant & Bar, the award-winning Hall at Patriot Place presented by Raytheon, the retro-style bowling alley, Splitsville Luxury Lanes featuring live entertainment by Howl at the Moon, and the four-star Renaissance Boston Patriot Place Hotel. For more information, visit www.patriot-place.com, follow Patriot Place on Twitter or like Patriot Place on Facebook.
Photo Gallery