200 Years of Fright - Go Back in Time as the First Parish Bedford Haunted House Returns!
Home » Blog » Press Releases
October 5, 2017 By Haunt News & Press Releases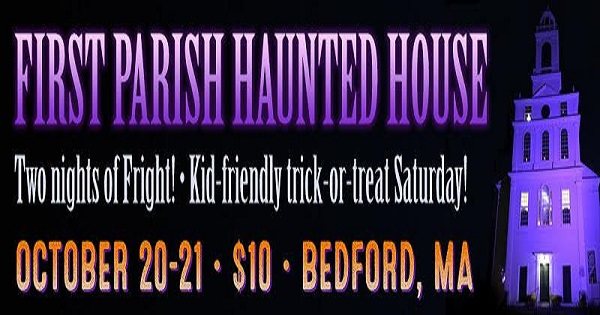 The First Parish Haunted House returns to the Old Church on the Common this year on Friday and Saturday, October 20th and 21st. To celebrate the 200th anniversary of the Old Meeting House we're taking a trip back in time.
This year, guests are transported back in time through a time warp where they'll find themselves transported to some of the most frightening historical events. Can you change your fate? You will soon find out the truth as walk into the Hall of Alternative History Next, you will be a witness to a Witch Trial. Best cover your mouth as you enter the Walking Dead Influenza Ward of 1917. The Inquizatorium is next and if you make it out of the Inquizitorium alive, you will head through the time tunnel down to the Dungeon of Doom.

As always with the First Parish Bedford Haunted House there is a noticeable lack of gore. So many Halloween events focus on blood and guts, but you will not find that at the First Parish Bedford Haunted House.. In fact, not being gory is one of the hallmarks that makes the First Parish Haunted House so special.

The First Parish Bedford Haunted House is considered a PG to PG-13 event on Friday and Saturday nights. To accommodate younger kids there will be a daytime event on Saturday morning where kids and their parents walk through the 200 year-old meeting house, trick-or-treating and enjoy all the great rooms without the fright.
The First Parish Bedford Haunted House has become a Halloween tradition. Past visitors have commented how professional everything is and that it's a fun time for all ages. One visitor noted, "The rooms really are amazing! There really isn't anything else like this. I can't wait to come back!"
Just The Facts:
First Parish Bedford Haunted House
Two nights of fright. One morning of Tricks and Treats.
Two Nights of Fright!
Friday Night October, 20th
Dark & Scary
6:00PM to 9:30PM

A Day of Tricks and Treats
Saturday Day October, 21st
Trick or Treat!
10:30AM to 1:30PM
Rated G for the little kids.

Dark & Scary
Saturday Night October, 21st
5:30PM to 9:30PM
Price: At Door Tickets
At Door Tickets:
Adult: $10.00
Children* 3 to 14: $10.00
Seniors: $8.00
*ALL Children MUST be accompanied by an Adult at all times.*
More information can be found here: www.HauntedBeford.org | http://deadford.blogspot.com/