Support The National MS Society at The 10th Annual Spring Halloween Thing Pub Crawl!
Home » Blog » Massachusetts's Best Weekend Events, Massachusetts Haunt News
February 23, 2017 By Chelsea T.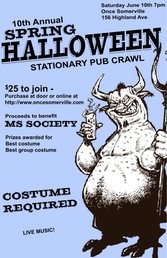 Photo by:
Photo via Ticketfly
It may not be the Halloween Season yet, but that doesn't mean you can't enjoy some spooky spirit in the spring time. Don't miss out on the 10th Annual Spring Halloween Thing Stationary Pub Crawl in Somerville on Saturday, June 10th at ONCE Ballroom!
Each year, attendees have the opportunity to dress in costume to celebrate the warm weather, drink some cold ones, and donate to charity. 100% of the proceeds from the event will be donated to The National MS Society, specifically to The Old Turkey's bike team as they raise money for the 100 mile Cape Cod Getaway this summer.
The event will be held from 7:00 PM-12:30 AM and will feature live music, games and prizes for best costume! Tickets are just $25 per person - must be 18 or older to attend.
Click here to purchase your tickets in advance & support a great cause!